How grades are calculated
T Level Awarding
Students who meet the required elements of their T Level will be awarded an overall grade,
in the form of a Pass, Merit, Distinction or Distinction*.
T Level grades are worked out from students' grades for the Technical Qualification (TQ)
Core and Occupational Specialisms. These are presented as look-up tables. To ensure
fairness, the tables are slightly different for different T Levels depending on the relative size of the
Core Component and Occupational Specialisms.
There will be just one look up table for each T Level
And there will always be the same instances of each grade available in each look up
table: six Passes, six Merits, five Distinctions and one Distinction*
To be awarded a Distinction*, the student must achieve an A* in the Core and a
Distinction in the Occupational Specialism(s)
Relative sizes of wave 1 TQ components
The component sizes and proportions for the first TQs are as follows:
T Level
Core
(GLH)
Occupational
Specialism(s)
(GLH)
Total
(GLH)
Proportions
%
Design Surveying and
Planning
600
600
1200
Core 50%
OS 50%
Digital Production Design and Development
600

600


1200
Core 50%
OS 50%
Education and Early Years
360
545 - 556
(550average)


910
Core 40%
OS 60%
T Level grading look-up tables
Based on the proportions of components, the look up tables will be as follows: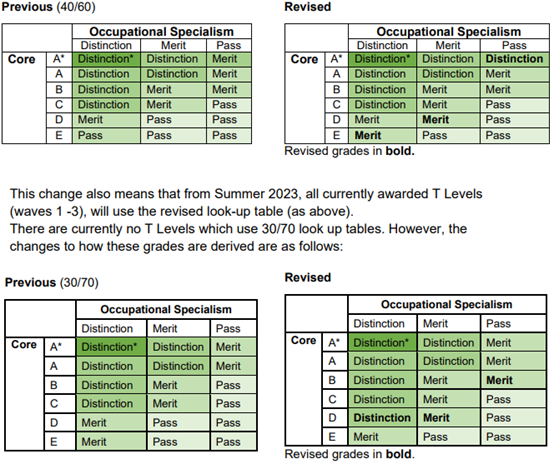 Last updated: